EMC (ElectroMagnetic Compatibility) 
EMC emission tests
RF conducted emission
Radiated emission type CISPR 25, SAEJ 1113-41, DO160, MIL STD 461 from 5Hz to 26GHz

Loop antenna, rod, biconical, log periodic, biconilog, horn.
Peak Detector, average, quasi-peak.
 

Transitory conducted emission type ISO 7637-2

Measurements of switching noise ISO 7637-2, method with 2 LISN, synchronisation on « victime wire »
Measurements by current clamp and LISN
​
EMC immunity tests
Radiated immunity on components

ISO 11452-2 and SAEJ 1113-21 from 20MHz to 6GHz 
ISO 11452-4 (BCI) and SAEJ 1113-4 AUG2004 from 100kHz to 1GHz
ISO 11452-5 (stripline) et SAEJ 1113-23 from 100kHz to 1GHz
ISO 11452-8 (Magnetic field immunity) DC to 200kHz
ISO 11452-9 Immunity from narrowband radiated electromagnetic energy (transmitter)

Biconical antenna Schwarzbeck 420NJ + SBA9113large bande 360 MHz – 2700 MHz.
Helicoidal antennas (NMHA) 28 MHz – 360 MHz
PATCH antenna.
​​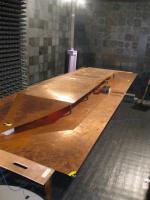 Electrical tests
Electrical behaviour tests type ISO 7637 and ISO 16750

Pulse ISO7637 (1, 1bis, 2a, 2b, 3a, 3b, 5a and 5b…) :
Coupling clamp ISO 7637-3
Pulse 4 and 4bis, pulse from restart, arbitrary waveforms, … 
Micro breaks.
Electrostatic discharge until 30kV.
Climatic chamber -40°C to +110°C.
​
Monitoring of the equipment under test
Optical Transmiters LIN/CAN/USB/RS232 to communicate with the EUT without EMC disturbances.
 
Global system of monitoring

Video cam (wide angle and miniature) with optical transmission
Audio monitoring
Automatic monitoring of light fluactuations
Lan optical transmission CAN high et low speed
Optical modules for the voltage measurements DC to 1 GHz
Synchronization with the software used to pilot the tests
​
Standards and test specifications for automotive qualifications and e / E markings
Standards
CISPR 12 / CISPR 25
ISO 11451/(1 to 4)
ISO 7637 (1 to 3)
ISO 11452/(1 to 11)
ISO 10605
ISO 14982
ISO 13766
EN 13309
Directives 2006/28/CE 2004/104/CE,97/24/CE, 2009/64/CE
Rule ECE R 10
Tests specifications
BMW 600 13.0, BMW QV65010 2000-09-28, GS95002, GS 95024, QV 65010
CHRYSLER LP-388-C, PF-8604, PF-8694, PF-9326
CNH ENS0310
DAIMLER-CHRYSLER DC-10613, DC-10614, DC-10615, LP-388C, MBN 10 284
EDF HN-46-R, HN 64-S
FIAT 7.Z044X, 7-Z0450, 7-Z047X, 7-Z0480, 7-Z0490
FORD EMC_CS_2009, ES-XW7T-1A278
GENERAL MOTORS GM91, GMI, GMI 12559, GMW309X, GMW310X
IVECO 16-2097, 16-2098, 16-2099, 16-210X, 16-211X, 18-2252
JAGUAR JLR-EMC-CS_v1.0
JOHN DEERE JD53.2, JD53.3
LAND ROVER EMC-CS-2010JLR
MAN M3285, M3499
MERCEDES MBN 10284-1, MBN 10284-2, MBN 10284-4, MBN 10615
NISSAN E_28400NDSXX_X, E_28401NDSXX_X, NDS01 à NDS09, NDS21, NDS29
PORSCHE EMV lastenheft, Hardwarelastenheft
PSA B217110 ind A, B217110 ind B, B217110 ind C, B217110 ind D
RENAULT/NISSAN RN_EMC 2000
RENAULT 36-00-808—K, 36-00-808—L, 36-00-808--M
ROVER MG MGR 6221627, RES62600_13_part21
SCANIA TB1901
TOYOTA TSF6716G, TSC7001G_4_P_1, TSC7006G1, TSC7025G 0 H 1, TSC7508G 3 H 1
VOLVO 515-0003, 1579908
VW TL81000, TL 965, TL 82066, TL 82166, TL 82366, TL 82466, TL 82566, VW80xxx